Advanced Diagnostics in Downtown Toronto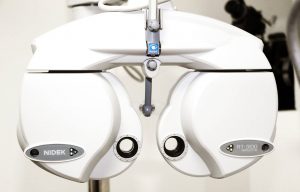 At 360 Eyecare – Metro, we go the extra step beyond basic ocular-visual examinations to provide advanced diagnostics to our Toronto patients. Our eye clinic utilizes advanced diagnostics that go above and beyond regular eye exams to enhance the degree of accuracy with which we diagnose and treat visual disorders and eye disease. Our  pediatric trained optometrists perform specific testing on children during the binocular and vision therapy assessments.  Trust that your family's vision is safe in the hands of seasoned optical professionals who care about preserving your eyesight.
Our optometrists prioritize your eye health over and above selling you glasses or other optical products. When you come to visit 360 Eyecare – Metro, our doctors will review your personal and familial history to gauge your susceptibility to eye diseases and disorders. This essential step in the eye health cycle is one of the many reasons that we hope to build long-term relationships with our patients. Seeing you year after year enables us to keep track of your eye health history, enhancing our ability to service your unique needs. Our Toronto optometrists are compassionate. They look forward to developing a foundational understanding regarding your eye health so that you can work together to find eye care and optical eyewear options that enhance your vision and lifestyle.
Cutting edge technology in Optometry – When are Advanced Diagnostics used?
If you are identified as at risk for eye disorders such as diabetic retinopathy or glaucoma then our optometrists will closely monitor the inner workings of your vision. Or, if during a regular eye exam, our eye doctors detect any indication that your vision may be compromised, they will initiate a broad range of advanced diagnostic tests. Our innovative ophthalmic diagnostic technology enable us to detect early and proactively manage eye disorders from progressing. Being proactive is absolutely essential as vision loss is typically irreversible, if left untreated.
Our imaging technology can capture videos of the front of the eye, as well as the back part of the eye.  This is a great tool used to monitor your eye health at every visit to detect any subtle changes. The advanced diagnostic tests that 360 Eyecare – Metro performs include visual field analysis and pachymetry. Visual field testing may detect changes in the optic nerve that indicate the progression of glaucoma, as well as many other neurological disorders. Pachymetry measures the thickness of the cornea. This measurement is commonly used in laser vision assessment and glaucoma management, diagnosing early cases of the disorder.
It is important to keep in mind that you will likely not experience any symptoms of an eye disorder until vision loss occurs. At this point, it may be difficult to restore the eyesight that has been compromised. Therefore, annual eye exams are an essential part of your health and wellness journey. If you are experiencing any symptoms that may suggest that you are losing parts of your vision or if you are simply looking to develop a long-term relationship with a seasoned optometrist, contact 360 Eyecare – Metro today. Our entire staff will work together to provide you with an outstanding comprehensive cycle of vision care.