Child Eye Exam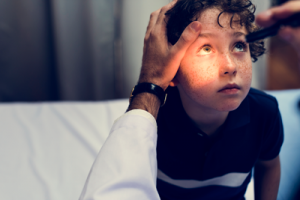 Unless a child is showing obvious signs of vision impairment or poor eye health, many parents and guardians assume they don't need to schedule an eye exam. Some even think their children's eyes will be examined in school as a part of regular health screenings. Both of these are mistaken assumptions. At 360 Eyecare – Metro, we agree with the the Canadian Association of Optometrists' recommendations that children have at least one comprehensive eye exam before they start school and once a year thereafter.
Children often don't complain about vision impairments because they don't know whether their vision is abnormal. To them, blurry vision, not being able to follow words on a page, or straining to see a blackboard (or whiteboard) may seem perfectly normal. As they say, a fish doesn't question how it swims, it just swims! Many vision impairments are only discovered once a child begins school or starts playing organized sports. Both situations require clear sight. But a comprehensive vision examination isn't just a test of sight. It's an examination of eye health. And for children, it can be one of the first steps in diagnosing an eye disorder.
Why Should I Get My Child's Vision Checked
At 360 Eyecare – Metro, our pediatric eye exam includes a full review of a child's health and vision history as well as tests for farsightedness, nearsightedness, color perception, astigmatism, and other common vision conditions. Identifying an eye impairment or disorder early greatly aids a child's ability to learn and feel comfortable in a classroom, or on a playing field.
360 Eyecare – Metro's comprehensive eye exams also look at eye function such as how well the eyes focus and work together, as well as overall health screenings. Did you know that in children, some binocular vision disorders are mistaken for behavioural disorders such as ADHD? Many family doctors treating children for ADHD often don't detect or even consider that an ocular disorder, or malfunction, is the cause. Disorders such as convergence insufficiency, where the eye do not work in unison, may not be apparent in simple vision checks. Only optometrists with expertise in eye-teaming abnormalities, would be able to diagnose—and properly treat—these issues in children.
In today's fast-paced digital world, it is also important for children to learn early about eye care and protection. Who better to impart this knowledge than the trained professionals at 360 Eyecare – Metro? We know that too much screen time, or time spend in front of Ipads, tablets, computers, smartphones, and TVs can harm a child's eyesight. Since the eyes of children and teens continue developing until they are about 20, many eye care professionals believe long hours spend in front of electronic devices can cause myopia, or near-sightedness. Both the Canadian Ophthalmological Society and the Canadian Association of Optometrists agree that the strain of "near work"— or looking at things close up—effects vision and can lead to conditions such as dry eye. Many experts are now recommending that children spend more time outdoors looking at things far away and absorbing beneficial sunlight and vitamin D.
Vision can be so important to learning and behaviour. A comprehensive eye exam will start your child's school years off right. Call 360 Eyecare – Metro today to book an appointment today.