COLOURED CONTACT LENSES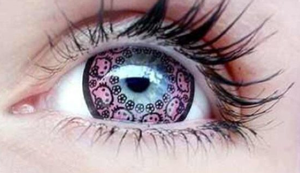 Coloured contact lenses are used to change the coloured look of your eyes, and helps you to look your best. If you want to rock a particular style or you simply want a crazy feel for special occasions such as Halloween, then coloured contact lenses could suit your sense of taste. They are found in Plano and prescription forms.
The prescription coloured contacts enable you to correct myopia which is commonly known as nearsightedness, astigmatism or hyperopia (farsightedness). While the plano coloured contact lenses are worn as part of makeup to change the color of the eyes.
Coloured contacts are rather expensive compared to regular contacts but they are well worth it according to its wearers.
TYPES OF COLOURED CONTACT LENSES
Mostly, colored contacts are designed to resemble the Iris, which is the colored part of the eye. These colored contacts are made of colourful shapes and lines or a series of coloured dots to enable the lenses have a natural appearance. Hence, the center of the lens is clear enough for you to see. Basically, they have three types of tints.
VISIBILITY TINT
This usually comes in a light blue color and it's added to a lens to help you have a better view of it during insertion and removal. Although they are fast like in appearance, they have no effect on your eye color.
ENHANCEMENT TINT
This tint is translucent, hence; it's a bit darker than a visibility tint. Its purpose is to enhance the natural color of your eyes. It's perfect for people with light colored eyes when combined with tinted lenses because it causes the eyes to become more intense.
OPAQUE TINT
It can completely change your eye color because it's non-transparent. People with dark eyes can use it to change the color of their eyes. They are available in different colors like green, hazel, brown, gray, amethyst, blue and violet. And it also includes theoretical or costume contact lenses. They are frequently used in the movies, and recently, they have become more available for novelty purpose because they create special effects.
With opaque lenses, you can take the role of a vampire and other specialized roles in movies.
CHOOSING THE RIGHT COLOR
For contact lenses, some factors determine its suitability such as skin tone and hair color, but it also got to deal with your desired look, be it subtle, dramatic, romantic, or natural.
Color contacts are suitable for light eyes. And meant for those who want to change their approach subtly. It's best to choose the kind of enhancement tint that deepens your natural color and defines the edges of your iris.
If you want your eyes to have a different color while still looking natural, then gray or green contact lenses are appropriate, especially when your eye color is naturally blue.
However, if you need a dramatic look that catches the attention of everyone, and if you have light colored eyes alongside a calm complexion with a blue-red undertone, then you should go for contact lenses such as light brown.
But if you have dark eyes, then, color contact lenses for dark eyes and opaque tints are the best for you. To have a change and still look natural, you can choose a hazel colored lens or lighter honey brown. However, contact lenses in vivid colors will enable you to stand out from the crowd easily such as violet, blue, and green. If you have dark skin, bright color lenses can create a superb new look for you.
If you are looking for coloured contact lenses in downtown Toronto contact our office at metro@360eyecare.ca to book your appointment with one of our optometrists today.