Contact Lens Solutions in Toronto, Ontario
With great vision comes great freedom with contact lenses from 360 Eyecare – Metro in Toronto, Ontario. 360 Eyecare – Metro only carries contact lenses that our optometrists are proud to recommend to clients. Our optical specialists stand behind
brands
that have proven to provide our patients with comfort and high-quality vision. Our
optometry clinic
works with patients to establish what type of contacts will best suit their eye care needs and lifestyles. That way, all of our 360 Eyecare – Metro patients get exactly what they want and need from innovative prescription contact lenses.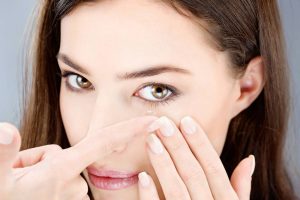 After your annual eye test, our optometrists decide what type of contact lens best suits you. At our optometry office in downtown Toronto, you will find contact lenses for nearsightedness, farsightedness, astigmatism and presbyopia, as well as cosmetic coloured contact lenses. Presbyopia refers to the inability to focus on near objects that progresses after the age of forty. Astigmatism refers to blurred vision caused by an irregular curvature of the cornea or lens that our optometrists are able to compensate for with specialty contact lenses. Regardless of the severity or complexity of your prescription, our optical specialists will fit you with the best possible prescription lenses that will help to compensate for and correct your visual impairment.
In our contact lens care package, you will receive complimentary trial lenses, so that you can feel secure in your choice to purchase contacts. Then, our eye doctors will schedule a follow-up appointment to ensure that you are satisfied with the lenses that they have prescribed. The long-term relationships that 360 Eyecare – Metro builds with our patients makes it easy to continuously re-evaluate and adjust your contact lens prescription, enabling you to see more clearly for many years to come.
Our optometry office in Toronto, Ontario carries Acuvue brand contact lenses for our patients who need highly breathable lenses for comfort.  Acuvue lenses are the only 14-day wear lenses in the market. They use Hydroclear technology that mixes a wetting agent into the contact lenses for long-term moisture. These exceptional lenses have an innovative shape that offers great fit and flexibility to suit your unique eyes.

360 Eyecare – Metro also offers Bausch & Lomb Purevision contact lenses that are designed to provide clear and comfortable vision for 30 days.  Purevision uses Aergel material that repels debris and stays moist for the entire day. These contacts are exceptionally healthy as they allow a natural amount of oxygen to reach your eyes. Also, their composition prevents the drying and reddening of your eyes, so you can look and feel fresh all day long.

Our optometry clinic also prescribes the very popular Air Optix family of contact lenses from Ciba Vision. These silicone hydrogel contacts are optimal for breathability and all-day moisture. Ciba created a patented lens material that is perfect for patients who have experienced eye dehydration with other contact lenses. At your next optometry appointment, ask if you are a candidate for Air Optix Night & Day Aqua designed for 30 nights of continuous wear. These are a great option for patients who are on the go and depend on convenient eye care solutions.
360 Eyecare – Metro will go that extra step for our patients to treat conditions such as keratoconus with rigid gas permeable lenses and for patients interested in specialty lenses such as ortho-k. Ortho-k is an innovative solution for patients who want to reduce progressive myopia (nearsightedness) or presbyopia. Patients wear ortho-k contacts overnight and the lenses gradually reduce nearsightedness, minimizing the necessity of wearing corrective lenses during the day. Ortho-k is a great option for athletes and other active candidates who would prefer to perform free from glasses or contacts.
If you want to be able to choose from an extensive selection of high-quality contacts, call 360 Eyecare – Metro today. Our optometry clinic provides Toronto patients with the best that modern optical solutions have to offer. Our compassionate and experienced optometrists guide you through the journey to contact lenses to ensure your long-term happiness. See differently with innovative optical lenses that will transform your vision and your life.