THE 360 EYECARE - METRO DIFFERENCE
Our Toronto optometry office is built on a distinct set of values that distinguishes us from other eye care clinics. Our doctors and our customer service staff members constantly challenge themselves to provide exceptional care. Read on to learn more about what qualities make 360 Eyecare – Metro attractive to patients who are looking for highly customized services from certified specialists.
Comprehensive Vision Care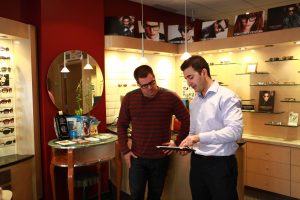 360 Eyecare – Metro is a unique optometry facility. We are able to offer eye exams, vision therapy, and an extensive eyewear boutique. At 360 Eyecare – Metro we are able to take care of all your eye health and vision needs. Our optometrists' extensive training allows them to provide patients with excellent at-home vision therapy, as well as eye treatment prescriptions. Dr. Baraam and Dr. Bastiampillai have taken the necessary steps to ensure that their optometry office in downtown Toronto is an innovative, but also family-friendly care clinic. Both doctors are specially trained as pediatric optometrists, distinguishing our clinic as one that prioritizes your family's needs for convenience and expert care. From ocular emergencies to diagnostic testing, 360 Eyecare – Metro will proactively protect and support your vision health.
360 Eyecare – Metro leverages advanced diagnostic equipment to serve you better. This equipment enables us to streamline processes, so that our staff can focus on providing you with great
eye care
. Some of these progressive applications include:
Automated phoropter that can show you your old prescription and compare it to your new spectacle prescription, all with a touch of a button. Automated retinal imaging that takes panoramic images of your retina and can be electronically transferred to your e-mail if you would like a copy for your records.
Online booking and online contact lens re-ordering through our website, all from the comfort of your home.
Beyond freeing up your time and ours, our dedication to innovative technology results in more accurate diagnostics that may protect you against
degenerative eye disorders
. Glaucoma is the leading cause of blindness: During your routine eye examinations, we use Glaucoma image screening to observe the health of your eyes and all of their intricate components. This machinery is essential for the early detection that is key to protecting your eyesight against the damaging effects of untreated Glaucoma.
Competitive, Compassionate Care
Our eye care professionals prioritize eye health above all else. However, we understand that, in addition to seeing clearly, you also want to look your best. Therefore, we combine expert vision quality with exclusive, fashionable brand name frames, so that you can be the envy of your friends. If you would like to go frame-free, we also have an extensive supply of high quality contact lenses for every eye and lifestyle.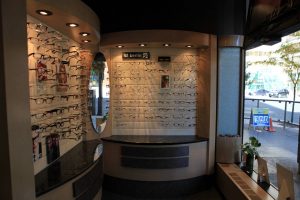 In addition to offering patients wide varieties of eyewear solutions, we are proud to offer these solutions at competitive prices. Typically, our brand name eyeglass frames are priced at significantly lower rates than comparable clinics throughout the Greater Toronto Area. We have always maintained the belief that marking up products is less important than making our patients happy people who invest themselves in a long-term optometric relationship.
Our complete contact lens care package includes, not only your fresh lenses, but also a customized contact lens fitting by our optometrists, and free follow up visits if needed prior to your next eye exam.
Receive complimentary glasses repairs and adjustments by doctors who are licensed to adjust glasses
Above all else, our Toronto optometrists are driven to understand and care for the "big picture" that is your overall eye health. We want you to come into our office to receive outstanding optometric care, but more importantly, we want you to return each year so that we can develop a comprehensive understanding regarding your eyes' unique demands. If you have come to understand that your eyes deserve the 360 Eyecare – Metro experience, contact our optometry office today.