Specialty Contact Lenses like Orthokeratology and Keratonic can aid with many vision conditions and can even provide alternatives to laser vision correction surgery.. 360 Eyecare – Metro offers a wide variety of contact lenses for all of your eye health and lifestyle needs. At your next eye exam our experienced optometrists can inform you of the best contact lenses for you. Below are some of the specialized contact lenses we can recommend to our patients with diagnosed visual impairments.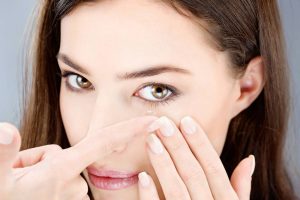 Orthokeratology is a non-surgical, non-invasive alternative procedure to Lasik. It is a great option for those who are unsuitable for Laser vision correction, including children. The principle of orthokeratology is based on corneal reshaping through rigid gas-permeable specialty contact lenses. These lenses work in a similar fashion to braces for teeth. The individually customized contact lenses are worn at night and taken off in the morning. Throughout the day, the patient then has clear vision with no need for contact lenses or glasses. Most people can benefit from Orthokeratology, especially those who enjoy an active lifestyle and are unable to wear soft contact lenses or have laser vision correction.
Call our office today to book your assessment and consultation with one of our Orthokeratology optometrists to determine if you are a candidate for this procedure.
Multifocal (bifocal) contact lenses
Multifocal contact lenses are primarily used for patients with presbyopia. They employ different mechanisms to provide clear vision for distance as well as for close up tasks, similar to bifocal and progressive glasses. Some designs place the near power in the center portion of the lens with the outside being powered for distance, while others apply the reverse mechanism. Certain multifocal lenses take advantage of "Simultaneous vision" technology where concentric rings of near and distance powers are used throughout the lens.
Every eye has different parameters and every patient has different visual demands. If you think multifocal contact lenses might be an option for you, contact our office to schedule an appointment with one of our optometrists for a full assessment. At the time of your exam all measurements will be taken and all lens options will be discussed with you in detail.
Toric contact lenses are lenses for correcting astigmatism. These lenses have two main features that set them apart from traditional contact lenses. One, they have different optical power in different meridians around the lens to ensure proper correction for astigmatic eyes. Second, they have a special mechanism to allow them to rotate and align themselves with the proper orientation for each eye. This is important because toric lenses have two different powers around the lens and therefore need to orient correctly to maintain clear vision.
A thorough examination and comprehensive measurements by your optometrist are critical for getting the correct toric lenses for your eyes.
Keratoconic contact lenses
Keratoconus is a corneal condition where the cornea thins and bulges outwards, causing reduced vision and other symptoms including light sensitivity. Most cases of keratoconus appear during the teenage years, however some can appear in early childhood.
Some advanced cases of Keratoconus might require corneal transplant or cross-linking as a treatment, however most cases can be treated successfully with specialty rigid gas-permeable (RGP) contact lenses. In early Keratoconus cases glasses may be used to help with vision correction, however with more moderate keratoconus the best-corrected visual acuity is significantly better with RGP lenses. These hard lenses, allow a tear film to form between the lens and the cornea. This helps smooth the irregularities of the cornea and provides clearer vision. The fact that soft lenses are unable to form this "tear lens" makes them a poor option for correcting vision in keratoconic patients.
If you are experience any symptoms of halos, glare or overall worsening vision call our office today to book an appointment with one of our optometrists for a full ocular assessment.