Glasses or Contact Lenses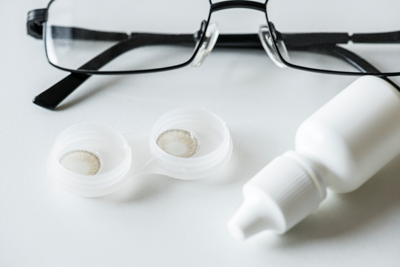 Some people are contact lovers, some people are glasses fans. And some love both. The contacts vs glasses debate has a lot to do with personal style, usage, and comfort. Luckily, with the array of contacts and eyeglass lenses now available through our optical shop and a little knowledge of the pros and cons, you don't have to sacrifice aesthetics for comfort or convenience. You can choose what works for you when it works for you.
Eyeglasses Make a Statement
Most people begin their vision correction journey with glasses. Eyeglasses allow wearers to define their personal style and make a statement. Maybe you want to assert yourself like Clark Kent, or show the world your eccentric or artistic side like Andy Warhol. Eyeglasses will convey your message whatever your tastes. In addition, glasses are generally cheaper than contacts over the long run, and they offer some protection from dust, wind, and light. Glasses are easy to pop on and off for tasks and naps. In addition, if you have sensitive or dry eyes, glasses are also gentler on your peepers.
Convenience for Active Lifestyles
Contact lenses are great for people with active lifestyles who don't like the feel of an appliance on their face when they play sports, hike, or run. Because they fit to the curvature of your eye, contacts give a wider field of vision than eyeglasses and won't distort or reflect your view. As an added bonus, contacts don't steam up when it is muggy out or fog up in freezing weather. There are also contacts available now that fit specific prescription issues such as astigmatism, as well as multiple prescriptions, far sightedness, and near sightedness.
The optometrists at 360 Eyecare – Metro would be happy to advise you on the proper fit for your eyeglass prescription, or the right contact lenses for you. We are conveniently located in downtown Toronto and are accepting new patients.