What is Keratoconus and how it can be corrected with scleral lenses?
Keratoconus is a corneal disorder that is mainly characterized by the thinning of the irregular cornea. It is believed to be caused by a combination of factors such as genetics, hormonal and environmental factors. Keratoconus may result in blurry vision, nearsightedness, double vision, light sensitivity as well as severe astigmatism.
While the condition can be corrected during its initial stages, the damage may become permanent if the cornea degradation continues. As a result, patients with who might experience early symptoms are advised to see an optometrist for a full ocular health assessment. In many cases, the condition can be corrected with scleral gas permeable (GP) lenses.
What are gas permeable scleral lenses?
They are large diameter lenses that rest over the sclera and vault the cornea entirely. Unlike conventional contact lenses which rest on the cornea. As a result, there is a space between the lens and the cornea. Usually, the lenses are inserted after filling with sterile isotonic fluid.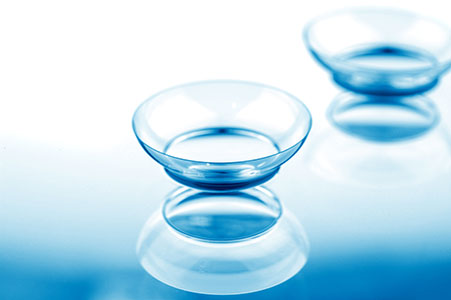 As a result, these lenses can be used to correct corneal ectatic diseases which result in high irregular astigmatism. These include keratoconus as well as pellucid marginal degeneration.
How can the lenses correct Keratoconus?
The field of Scleral contact lenses (ScCLs) has seen much advancement in terms of both design and lens materials. As a result, GP scleral lenses are now replacing the older corneal rigid gas permeable (RGP) lenses which are less useful in cases where the conicity of the cornea increases dramatically (a major characteristic of keratoconus),
ScCLs contains three parts:
•the Scleral portion (Haptic) which rests on the sclera
•the vault, this section is responsible for corneal as well as limbal clearance of the lens
•the optical part of the lens, this is usually 0.2mm more extensive than the horizontal iris diameter.
This design ensures that the lens does not move too much on the eye after fitting
A few other design features may also be included to enhance ScCLs. Those include:
•Front surface eccentricity (FSE), these act as wavefront aberrations correction to the spherical scleral lens.
•Air-ventilation or fluid ventilation, this will help in providing oxygen to the ocular surface.
It's important to note that the fluid reservoir found on the scleral lenses is able to mask irregular astigmatism. Therefore, the lenses have to align the haptic to the sclera perfectly. This is made possible through the application of submicron lathe machines as well as computerized lathe machines to produce custom lenses for each patient. This also allows the adding of toricity to match the edge lifts for each individual patient.
Advantages of using gas permeable scleral lenses to correct keratoconus:
1.Improved oxygen transmissibility due to their thin nature that allows oxygen to permeate through them freely.
2.Reduced amount of debris collection between the lens and cornea
3.The lenses are much more comfortable to wear compared to others
4.The minimal movement ensures that the lens stays in position and therefore allows for better, more stable vision.
5.Fenestrations that help in oxygen delivery as well as tear exchange.
If you are interested in scleral lenses contact our downtown office today at metro@360eyecare.ca for further information or to book your eye exam and consultation with one of our optometrists.