When it comes to sunglasses, there are lots of options to choose from but one that stands out from the bunch. Maui Jim has proven its quality time and time again with their revolutionary PolarizedPlus2®technology that has yet to be matched. The premium clarity and crispness of the lenses is sure to leave you impressed. The lens technology goes beyond just protecting your eyes from harmful UV rays. It is prioritizing protection from glare and attention to detail.
Their wide variety of frame sizes and styles accommodate each of their unique lens colours and materials specifically designed to match the lifestyle of the wearer.There are four main lens colours that all serve individual purposes for you. Maui Jim's Neutral Grey lens is the most typical "sunglass lens" and serves to reduce light. In bright settings, such as on the beach or in a sailboat, this lens outperforms others in reducing glare as well as direct sunlight. This lens may also come with a Blue Hawaii or MAUIGreen mirror tint depending on the style. Maui Jim's HCL® Bronze lens is more of an everyday lens. It adds a warm tone to daily wearers that may use these sunglasses to drive or walk around outdoors. The Maui Rose ® lens has the highest available contrast and is perfect for highly active athletes such as bicyclists. Lastly, Maui Jim's Maui HT ™ is a high transmission lens that is meant to cut out glare but still allow for high transmission of light. This lens is perfect in low light situations as well as for golfers. Their PolarizedPlus2®technology and colour selections are available in a range of lens materials that each have their own beneficial features and functions.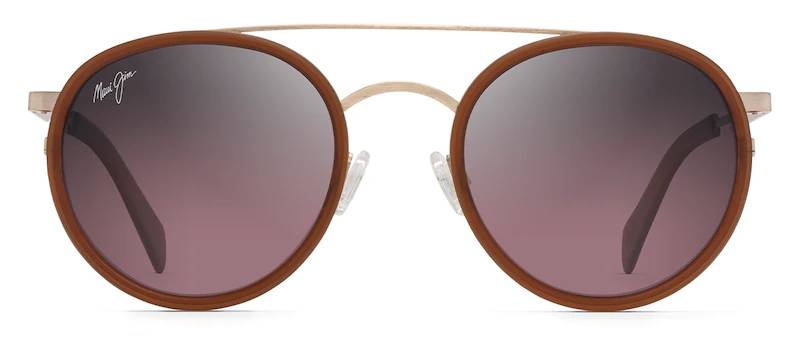 Maui Jim's SuperThin Glass provides the crispest optics and is 32% lighter than standard glass. It uses Maui Jim'sPolarizedPlus2®technology and helps eliminate harmful UVs andglare. It is the most scratch resistant lens that Maui Jim offers. Here it is pictured in the Even Keel model with the Maui Rose® lens colour.
Maui Jim's MauiBrilliant™lens has the most advanced technology available with optics matching the clarity of glass but with only a third of the weight.The lightweight lens and crisp polarization will allow for your eyes to maintain a more relaxed state. Here it is pictured in the Canna model with the HCL® Bronze lens colour.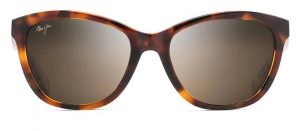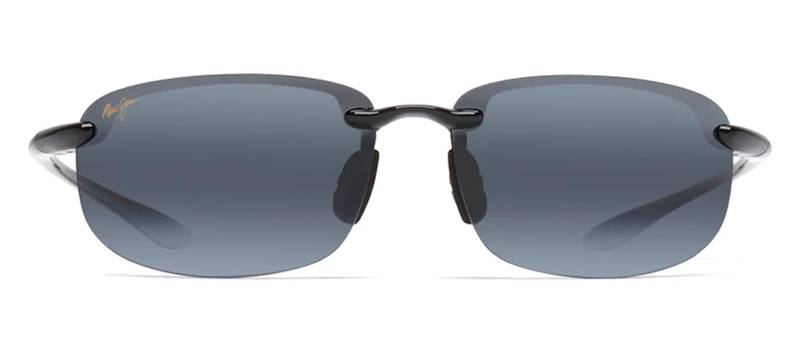 Maui Jim's MauiPure®lens is one of the most shatterproof options with optimal scratch and impact resistance as well. It is incredibly lightweight while maintaining clarity. It is Maui Jim's most popular lens. Here it is pictured in the Ho'okipa model with Neutral Grey lenses.
Maui Jim's Maui Evolution®lens is a lightweight, polycarbonate lens that prioritizes scratch and shatter resistance as well as higher optical clarity. Here it is pictured in the Cliff House model with Maui HT®lenses.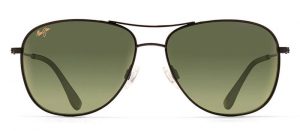 The practicality and quality of Maui Jim's lenses are what keep them standing out from competitors. Maui Jim has prioritized function with their incredibly crisp and clear PolarizedPlus2®lens technology that's used in each of their lens materials. Each tint is uniquely designed for the needs of the wearer. The goal is to minimize eyestrain by allowing your eyes to relax while blocking them from harmful UV rays. With excellent warranties and consistent reliability, Maui Jim really rings true to its Hawaiian roots. All of the above models and more are available to try on at 360 Eyecare –Beaches. Stop by to find your next pair of everyday wear and task specific sunglasses.