Eyecare and Technology
Technology plays a tremendous role in every industry and the eyecare industry is no exception. We see advancements in technology impacting all aspects of the eyecare practice. From new revolutionary diagnostic equipment that help optometrists pick up settle ocular changes that were missed in the past to new advancements in contact lenses and glasses, the future of eyecare is bright.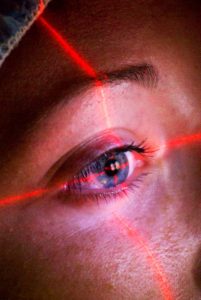 The OCT
The OCT (optical coherence tomography) is one of the diagnostic tools that have revolutionized the way optometrists and ophthalmologists practice over the last several years. OCT is a non-invasive technology that's able to take a cross section of internal ocular structures including the optic nerve, macula and other sections of the retina. This advanced technology allows the eye care professional to see beyond what could be discovered on a standard clinical examination through biomicroscopy or retinal imaging. This tool is specially important for patients with family history of macular degeneration or glaucoma. It's also great for monitoring disease progression in patients who have already been diagnosed with the disease and would need to be monitored closely for change.
Contact lens inovation
Another eyecare area that has been tremendously transformed by technology over the last several years is the contact lens market. The technology in this arena has come a long way over the years. Daily lenses now come in silicone hydrogel material that allows for greater oxygen transmission through the lens and better comfort. Given that these lenses are now manufactured at a larger scale the cost of the lenses has also come down significantly, so wearing these lenses has become much more affordable as well. The custom rigid gas permeable lenses and scleral lenses advancements have also been instrumental in allowing optometrists to help more patients who otherwise would have not been able to help in the past. Example of such cases include those with dry eye disease who had developed intolerance to soft contact lenses or those with corneal disease such as keratoconus, and post surgical patients.
Glasses
On the glasses front, digitally manufactured spectacle lenses now allow for more customization than ever. Such level of accuracy and customization now allows for most optimized vision. The days of having only generic stock lens options are long gone. Thanks to digital lens surfacing, we're now able to specify how a patient chooses to wear a frame to the fabrication of the lenses for most optimized clarity and comfort.
Surgical front
On the surgical front, we have seen many technological advancements that have increased the options available to patients in need of ocular surgeries. In refractive surgery for example, new laser technology such as the custom all-laser wavefront Lasik or transepithelial PRK has allowed corneal surgeons to deliver more accurate and safer outcomes for their patients.
Emerging Technologies
One of the most exciting technologies that are starting to emerge now is the wearable technology. We are seeing small launches in the eyewear arena but likely there will be much more to come in the near future.
To learn more about eye health, eyewear or to book an Eye Exam or a consultation with one of our Optometrists call or email us at our Downtown Toronto University Avenue location and we'll be more than happy to assist.